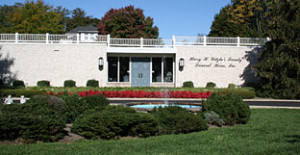 Harry H. Witzke's Family Funeral Home
4112 Old Columbia Pike, Ellicott City, MD 21043
410-465-2848
We are available 24 hours a day to receive your phone calls, weekdays, weekends, and holidays.
Our Heritage
The original Harry H. Witzke Funeral Home was founded in 1912 in Baltimore. One location was at Hollins and Gilmor Streets, and another was at 4101 Edmondson Avenue. Harry H. Witzke's Family Funeral Home moved to Howard County in 1965 to it's present location to serve all areas.
The funeral home is owned and managed by Alene Collins Witzke and Sherri Collins-Witzke, CFSP. We are family owned and are not affiliated with any other funeral home.
Prearrangement Services
We offer prearrangement services, with or without prepayment, traditional funeral arrangements and cremation services. We assist families with burials out of state, services at Arlington National Cemetery and all other state veteran's cemeteries, memorial services when requested, and bringing a loved one home when a death occurs in another location.
Availability
We are available 24 hours a day to receive your calls on weekdays, weekends and holidays. We work with all families regardless of faith. From the first call we receive, we strive to offer kind, understanding assistance in making funeral arrangements. We treat you and your loved ones with dignity and respect. Our qualified and professional staff will assist you with all details from the time of death until the completion of services. Please call us to set an appointment. Our office hours are 7 days a week, 9 am to 4 pm, excluding holidays.
Our Pledge
Our pledge is to offer the best service possible at a reasonable price. We do not offer "funeral packages." Instead, we offer itemized goods and services. You only pay for what you need or want. Our average price for a traditional funeral is $8000.00, not including cash advance items, and $3335.00 for a cremation with no services. If desired, we also offer viewing and services before cremation at an average price of $6400.00.
Our facilities are handicapped accessible, all on one level, and ample parking is available. Our directors and staff are here to assist you in a caring, compassionate manner, to help you through your greatest time of need. We are conveniently located in Ellicott City near several major routes and BWl-Thurgood Marshall Airport.
If you have any questions, concerns, or would like a copy of our price lists, at no obligation, please do not hesitate to contact us.
Management & Affiliations
Sherri Collins-Witzke, CFSP
Vice President
Phone: 410-465-2848
Fax: 410-465-0020
Sherri Collins-Witzke resides in Howard County with her husband, Gus. She moved to the area in 1969. After graduating from Catonsville Community College, Cum Laude, in 1995, she has been managing our family owned funeral home as a third generation licensed mortician. She is a licensed Certified Funeral Service Practitioner, completing extensive training in the funeral industry. Her daughter, Samantha Flanagan, is now licensed and adds a fourth generation to our family's business.
Sherri is active in the Maryland State Funeral Directors Association (MSFDA), serving three terms on their Board of Directors, and is a member of the National Funeral Directors Association (NFDA), the MSFDA Disaster Response Team, and the steering committee for Gilchrist Hospice Services Taste of Howard County. She is a graduate of Leadership Howard County, class of 2007. Sherri is also a board member for Blossoms of Hope, The Howard County Tree Project, who raise funds for local charities, including the Claudia Mayer/Tina Broccolino Cancer Resource Center in Howard County, and beautify the county by planting trees.
As a volunteer, in the past, she spoke regularly at Positive Alternatives to Dangerous and Destructive Decisions (PADDD) and UR Responsible, helping to educate teens and adults who are at risk on our roadways.